[lang=en]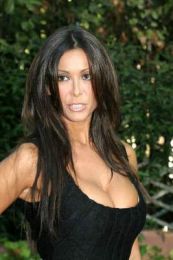 Name: Sara Varone
Born: December 27, 1972
Place: Rome, Italy
Ethnicity: White
Nationality: Italian
Hair Color Brown - Dark
Sign: Sagittarius
Nickname: Sweater Kittens
Occupation: International model and also a TV entertainment program host.
Studies: She has studied in France and England and after graduating high-school, Sara achieved a degree in psychology.
Hookups: Stefano Ricucci,Andrea Perone
Ex-husband: Andrea Perone.
Claim to Fame: Buona Domenica
Personal webpage:
www.saravarone.net
Biography and career :
Sara Varone was born in 1972, Rome, Italy. She is a famous international model and also a Tv entertainment program host called "Buona Domenica" (Good Sunday).
She have studied in France a
nd England and after graduating high-school, Sara achieved a degree in psychology, she entered the world of modeling starting with her first game show "Uomini e Donne", hosted by Maria de Filippi.
Today,
Sara Varone
is under the spotlight because of her participation in "Buona Domenica" (Good Sunday), where she acts as psychologist, discuss with others on gossip and occasionally offers some short rationed dance and music. The show is also presented by Paola Perego, Stefano Bettarini, Elisabetta Gregoraci and Beppe Braida and can be seen on "Canale 5" (Channel 5) of the Italian television.
Sara pays big attention to all types of photos she takes for calendars and magazines and she is more focused on seduction.
Why do we like Sara Verone?
What is not to like at Sara Verone? She is a beautiful Italian woman with a successful career in television and a psychology degree. Every time when Sara Verone is on the screen, the audience goes up to the roof.
Why is Sara Verone so famous?
She is famous for her apparitions in the famous television show "Buona Domenica" from Italy. "Buona Domenica" is an interactive game show where various Italian stars must overcome some funny and entertainment situations. Sara Verone always manages to do that with a particular style.
Trivia :
- She studied in Rome and achieved a degree in psychology.
- She used to date with Sabrina Ferilli's ex-husband, Andrea Perone.
- She has brown eyes and brown hair.
- Her sexy body made waves all over the Internet especially on Youtube and Google with her hot moves in short clips.
- She is famous and extremly mediatized due to her activity on Italian TV when people could almost look up her skirt.
-She dated with Mancini from AS Roma.
Quotes :
- "I have 34 years and have a daughter accountant, I am also stubborn and fussy."
- "I do not like the naked free, I prefer the seduction, "I see and not see". But at the right time."
- "I have graduated from high school and later achieved a degree in psychology. And there in the end, there has always been the ignorant one who passes the big fat rumors onto the media painting me a whole new picture of myself: the typical, brainless, brunette bimbo."
Sara Varone Articles
Sara Verone The Italian Tv Goddess
Sara Varone And Her Life
A Short Biography Of Sara Varone
Sara Varone News
Sara Varone Poses for For Men Magazine (January 22, 2010)
Sara Varone Is No. 44 In Top 99 Woman of 2009 (January 22, 2010)
Sara Varone Lists
Top 6 Sara Varone Pictures (January 22, 2010)
Living people
Italian female models [/lang]